Kristen Henderson
Kristen Ellis-Henderson is a founding member, guitarist and percussionist for rock band Antigone Rising. She is also the author of a memoir, "Times Two" (Simon&Schuster 2011), Co-President of the non-profit Girls Rising, and an outspoken advocate for LGBTQ Equality. 
Kristen formed Antigone Rising with her sister, Cathy (lead guitarist) at Bucknell University. Upon graduating, the band moved to New York City where they perfected their signature three-part harmonies at famous nightclubs like The Back Fence, The Bitter End, and The Bottom Line.
Before inking a deal with Atlantic Records in 2004, the band was playing up to 280 shows a year.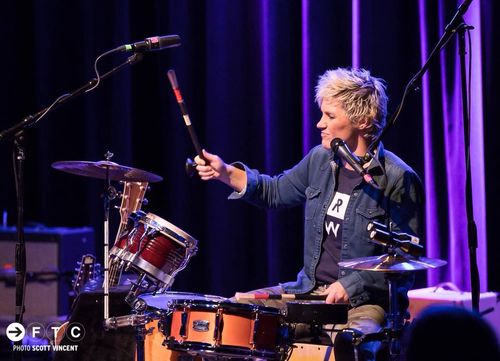 That record deal enabled the band to pay their van off and move into a tour bus, where they played alongside artists like The Rolling Stones, Aerosmith, The Allman Brothers Band, Joan Jett & The Blackhearts, Rob Thomas and many others. 
In 2006, Atlantic Records, through an exclusive distribution deal with Starbucks, released the band's debut CD, "From The Ground Up," which went on to sell half a million copies. The lead single, "Don't Look Back," co-written by Kristen and Matchbox 20's Rob Thomas, was in heavy rotation on CMT, VHI and several radio stations across the United States. The band also performed the song on The Tonight Show with Jay Leno and The Today Show.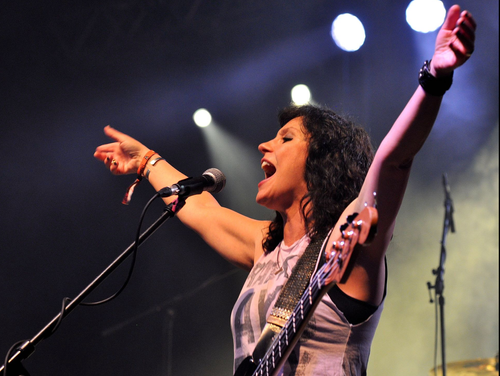 In 2012, Antigone Rising traveled abroad to the Middle East as cultural ambassadors performing outreach workshops for women's history month. The band's stories resonated with the kids in Israel and Palestine alike. Upon returning to the United States, the and formed their nonprofit, Girls Rising, in an effort to continue the work they began on that trip. Since then, the ladies have performed outreach workshops in Vietnam, Mexico, Germany, France, Austria, in LGBTQ youth centers and schools across the United States and refugee camps in Europe and Asia.    
In 2013, Kristen appeared on the cover of Time Magazine's "Gay Marriage Already Won" issue. The issue was named one of the most controversial covers of all time by CNN. 
Kristen continues to write songs for Antigone Rising, maintains her blog, "Hangin' With Hendo," and in performs Girls Rising outreach workshops planned around the world.